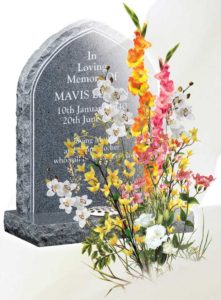 Coming to terms with the loss of a loved one can be a very emotional time. It is natural to want to leave a marker as to who they were, when they lived and maybe make a comment about them being a special person or quoting a verse from the bible.
The Church of England recognises this need and allows specific types of monument to be erected although there is no automatic right to do so. There are certain regulations governing this and providing that these are adhered to the minister of the parish church has authority to give permission for the monument following a written application which will include a description, dimensions and details of any inscriptions whatsoever. Your Stonemason should use a suitable form.
Anything else that is proposed to be added even at a later date must also be applied for prior to any action being taken – please contact the Rector.
It is important to understand that the fee paid for a burial or interment of ashes does not buy ownership of the grave plot but permission to bury.
It is the family of the deceased who are responsible for maintaining the monument and plot itself. The churchyard is maintained, in our case, by volunteers. It is important to keep within the allotted dimensions of the plot to give proper distance between plots for access.
There are also regulations for what is allowed to be put on the grave or cremation plot itself.
Things allowed
An upright headstone or in the shape of a book, basically rectangular with the top edge flat, or in the shape of a cross or a flat slab. The slab to be no bigger than the grave.
The monument should be of unpolished stone sympathetic to the fabric of the church, or of English Oak, and may be set on a plinth.
An inscription of words and numbers only to include the full names of the deceased with dates or years of birth and death.
The side of the stone to be inscribed may be polished.
The inscription to be incised only.
Any extra wording must be consistent with Christian beliefs and requires discussion with the minister before proceeding.
Things not allowed
Monuments of marble or granite (other than grey granite), artificial stone, plastic or more than one type of stone. Black granite is allowed for cremation plaques
Colouring, silvering or gilding
Hearts, urns or statues.
Pictures or photographs.
Kerbing, railings or chippings.
Any kind of lighting.
The scattering of ashes
Containers of ashes for burial made of metal, plastic or hardwood.
Artificial flowers, shrubs, toys, balloons, ornaments, photographs or other sentimental items.
Glass vases or containers.
Flowers
Cut flowers are allowed, laid or in containers for the purpose incorporated into the monument and Remembrance Day poppies. These must be removed when they have died or deteriorated.
Anything other than the above must have the permission of the Minister.
The Parochial Church Council support the minister in not allowing unsuitable monuments and inscriptions in breach of the regulations and reserve the right to remove anything disallowed that has been placed on a grave 42 days after burial and at any time after that.
Steps may also be taken to remove kerbing and chippings.
There is a difference in what is permitted between a churchyard and a municipal graveyard. The churchyard is owned by the Church and governed by the Church of England. A municipal graveyard has its own separate regulations.
A Christian graveyard should be dignified, respectful of others and the faith of those who have committed permanently their friends / family to God, thus endorsing the certain hope of resurrection.
So a monument serves, not as a shrine, but as a marker and record of the deceased providing a place for personal reflection and prayer.
We are sorry for your loss.
May God bless you and keep you in His love
and may you find Peace.